Indonesian Cookery Class
In an attempt to fully immerse ourselves in the Indonesian way of life we thought what could be the first step? ..... cooking!
Which for me is ideal, as I lead my life wondering what will be for my next meal. I have a very loud inner fat kid. And Indonesian food is
seriously
underrated in my opinion.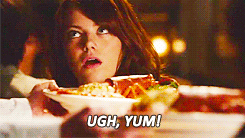 me every time I'm presented with food in Bali
nasi goreng, satay, spring rolls, gado-gado, tempeh........ my mouth is watering already.
After hearing so many other people raving about Ubud we booked a bus to take us up into the mountains, where luckily it turns there is practically the food capital of Bali!
After looking around the town, window shopping at all the beautiful clothing and jewellery shops and forming a exceptionally long list of all the restaurants we wanted to try we came across one lovely looking place that did cooking classes.
Signing up for a class that afternoon we went back to our room to freshen up and get into Nigella mode. (the food not the coke)
She is life goals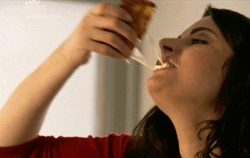 Back at the restaurant we were ready to go.
such a beautiful array of ingredients and colours!
The location was a bit more impressive than a home ec classroom.
In the middle of the jungle
we were incredibly lucky, being the only ones in the class so we got to decide the menu.
Obviously we went for Nasi Goreng and Satay but also spicy fish and coconut veggies.
first up we had to chop all of the ingredients.
But could never match the speed and proficiency of our professional chef.
A lot of it involved grinding down with a mortar and pestle, but at home a NutriBullet will be fine.
Although if you are looking for an arm work out I would fully recommend the mortar and pestle. My wee twigs could not handle it.
After all the chopping was done it was time to get cooking! In 33 degrees that is not as cool as it sounds.
Clare mixed together our Nasi Goreng. An Indonesian kind of fried rice, that includes sweat soy sauce, shallots, garlic, spring onions, turmeric, onion cucumber and tomatoes. Delicious.
Rachel took making the Satay sauce very seriously. A bowl of liquid peanut heaven.
I needed a bit of instruction from the head chef with how to properly mix the Nasi Goreng.
Considering I normal cook like this, I was pretty pleased with how it was going.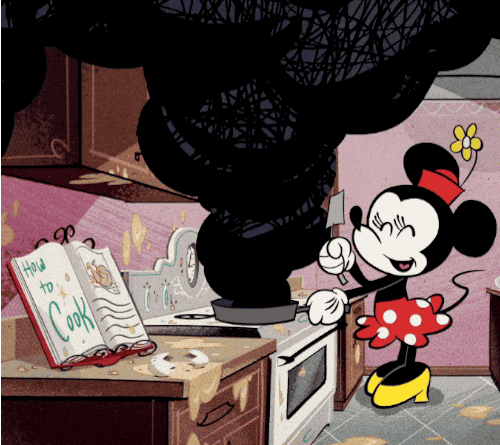 we left the pro's to manage the chicken Satay on the BBQ, by far the hottest job.
The fish was covered in our mix of roots, veggies and peppers then steamed in a banana leaf. (at home some tin foil will do in place of the leaf).
Once all of the food was ready we set up a table in the forrest and prepared for our feast.
From left to right: rice, Nasi Goreng, Chicken Satay, Spicy fish and coconut veggies.
Not forgetting all the satay sauce a the back! 😋
An amazing way to have a wonderful dinner. I will definitely be making these at home.
I would fully recommend doing a cooking class if you are in Indonesia.
We even got a handy little recipe book with everything we made in it to take home.
My inner fat kid was very happy!